My GalleryMy contributions to the site.
Model sheetsWhere I get all my character references
Coloring HelpAdvanced Photoshop, 3dmax, and flash techniques.
Contact Me If you have anyquestions, comments, or suggestions
Back to main page Return to Andy's pages
A peek at my Soul...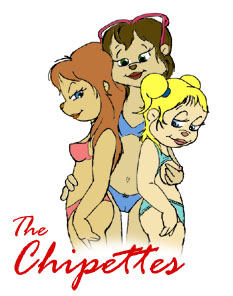 Well, there they are...The Chipettes.The cute little trio which most of my Erotic art has portrayed.Of coarse my art isn't limited to them...but they are so cute and mesh well with my most ideas. For the longest I would try not to put too much into my erotic work, but with all the erotic companys out there( Eros, Heavy Metal, Amerotica...ect. )I wouldn't mind working with them on the side. 3D iz my new found love so don't be surprised if you see a little of that in My Gallery
Keep all the fan mail comin...and sorry I don't have a site yet. Its in the works and it seems it'll be that way for a while.
I don't think I have to show you the how to go about coloring your photos since most of the other artist on smuttytoons have the steps.(Most of which I go by) But check out Phong.com for more advanced techniques. Just click the coloring help link to the left.
Thanx for droppin' by.
...Join The fight against Artist Block... Make Suggestionz.